BUGS CLEAN (high concentrated) 20L
Product ID : 919-20_moulding
Insect residue and bird dropping cleaner spray type
Contents
BUGS CLEAN (high concentrated) 20L (Use quantity : 10ml/car)
Added to Cart
* You can order either domestic or international products, but not both.
| | |
| --- | --- |
| Origin | Japan |
| List Price | 20,358 Yen |
| No of Use | 2,000 |
| Cost per car | 10 Yen |
BUGS CLEAN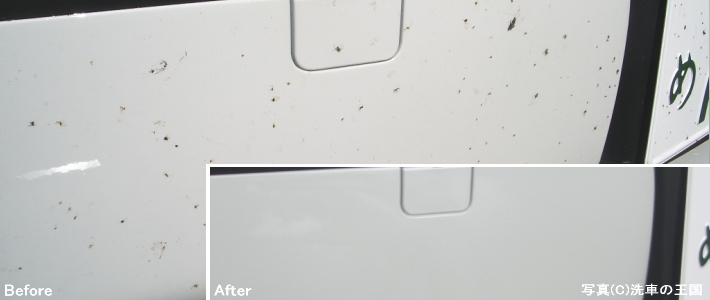 Melt and remove sticky insects and bird droppings? !! Easy without rubbing! So it won't damage the painted surface.
Bugs Clean is the dedicated product for the removal of bird droppings and bugs on surfaces. The main characteristic of this product is to dissolve them.
It is hard to remove bird droppings and bugs on surfaces once they are stuck and got dry. Many car owners used to use towels and clay to remove them. However, it causes scratches on the surfaces because this work attempts to remove something already hardened.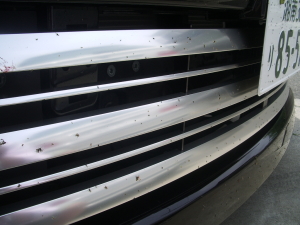 The way of removing them with Bugs Clean is totally different. When you spray Bugs Clean on those bird droppings and insects, the product will infiltrate into them and dissolve them After this, you just need cleaning up them by scrubbing lightly with a sponge with running water. You do not need rubbing surfaces hardly anymore like used to.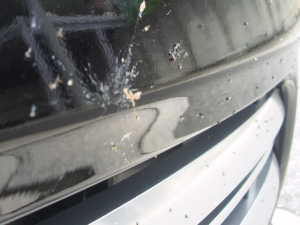 Why so easy to remove? Why so it can make exellent finish?
Newly-conceived special solvent "softly teach" professional insect removal technology.
Our coating shops also had an issue with removing bird droppings and insects hardened on surfaces. This is why we started R&D and produce Bugs Clean. It engages the very special and specific agent to dissolve bird droppings and bugs without causing any damages on car surfaces.
By reading and following the instruction manual attached, everyone is able to remove bird drippings and bugs on surfaces.
The sticking blood of insect is getting dissolved out.

As you can see, the bird dropping is getting dissolved!
1) Rinse dust, sand, mud and dirt with a strong stream of water.

2) Spray this liquid directly, without wiping off water.

3) Wait for a while and deposits can be dissolved in the solvent penetration.

4) If the insects and bird droppings are sticking, overlay tissue or paper towels on the deposits and spray the liquid over it making penetration.

5) Use a car shampoo such as our "Body Clean" and wash it while rubbing lightly with a sponge.

6) Wipe the remaining water.
We are loved by the world
In Asia, Europe, Middle East and Africa. Our quality proven in about 34 countries around the world and around 800 branches.
Asia, Europe, Middle East and Africa, about 34 countries around the world and 800 branches. It is your long-selling best quality products.
In Japan domestics car wash shops, petrol stations and various other automotive companies as a favorite brand.