SCRATCH CUT
Restore the original best condition by removing dullness and minor scratches made during washing.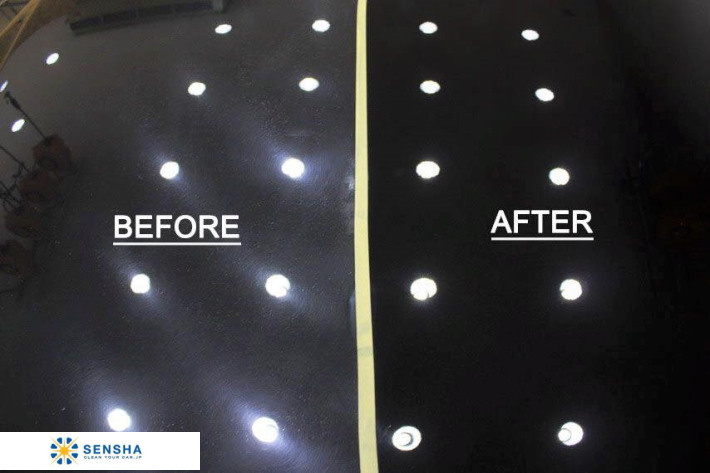 The surface of the body loses its brilliance over time and becomes dull. Most of the causes are car wash scratches and wiping scratches. Innumerable small scratches (scratches) cloud the paint and make it easy for water stains to adhere.
This product Scratch Cut is a professional-grade paint abrasive that is actually used in professional shops and car wash specialty stores. It removes car wash scratches and wiping scratches that cause dullness with both machine and hand polishing. Can be done.
The biggest difference from commercially available abrasives is that they are non-silicon type. Many products, both commercial and commercial, contain silicone so that they can be polished and glossed at the same time. Even if polishing is performed with an abrasive that contains silicon, the abrasive particles will slip on the silicon, and the polishing power cannot be exerted accurately. Therefore, in order to fundamentally improve the condition of the painted surface, a completely non-silicon type abrasive such as this product Scratch Cut is indispensable.
In particular, I am confident that owners who say, I have used various solvents, but none of them are good enough will understand the difference if they use them.
Remove dirt and scratches with the latest technology!
This product Scratch Cut is our original automobile painting / abrasive developed with the latest technology. By blending different abrasive particles and a new manufacturing method, it demonstrates unprecedented polishing power. It is no exaggeration to say that there is a clear difference from commercial products.
IMPORTANT NOTE
Regardless of manual or mechanical polishing, depending on the condition of the painted surface, there is a possibility that deep scratches and water spots (ring stains) will not be completely improved.
Please use our Scratch Cut for Finishing when you feel. I want to give a little more gloss after applying the scratch cut main solution. The usage of Scratch cut main solution and Scratch cut for finishing is the same.
Why commercial compounds are not good
Professionals choose the best products for your car!
Most of the compounds on the market are produced in a safe formulation to accommodate a wide range of vehicle models and colors. Car painting varies depending on the manufacturer and model year, such as the type and color of the painting itself. Our construction department usually uses about 6 to 8 types of compounds properly. The reason is that it is essential to have an abrasive that matches the model year, model, and color.
In order to improve the condition of the owner's own car, it is necessary to have a compound that is suitable for the car. This is an important point that also leads to work safety. It is a product that does not match the model and color, and if you polish it by force, it will lead to a construction accident.
It is also ideal for installation on motorcycles.
Classic cars will also be revived.
1) Please rinse off sand, dust, mud and dirt with strong water flow,

2) Wipe off any moisture and let it dry.

3) Take this solution on our Utility Sponge and polish it vertically and horizontally.

4) Use our Basic Cloth and wipe it lightly.

5) Please wash with a car shampoo such as our Body Clean.

6) Wipe off the remaining water to complete.
We are loved by the world
In Asia, Europe, Middle East and Africa. Our quality proven in about 34 countries around the world and around 800 branches.
Asia, Europe, Middle East and Africa, about 34 countries around the world and 800 branches. It is your long-selling best quality products.
In Japan domestics car wash shops, petrol stations and various other automotive companies as a favorite brand.