CLEAN CLAY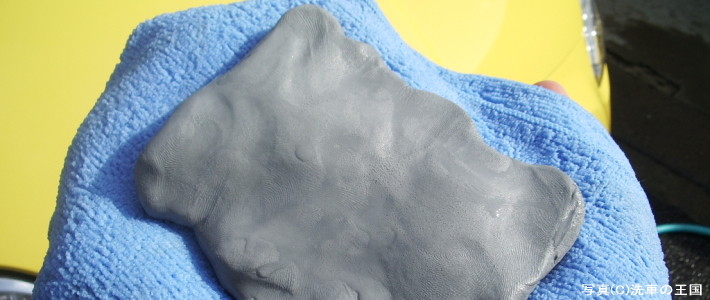 Feature and benefits
Remove paint mists and iron powders.
Clean Clay is the professional use and the must item to remove paint mists and irons for the surface preparation. An significant amount of Iron powders which cannot be removed by iron removers and/or unwanted paint mists from construction areas can be cleaned up with one time application by the product.
SENSHA obtained lots of many requests from our customers in regards to paint mists and irons removal issues. Therefore, Clean Clay was developed. Once you try this, you will be understood how Clean Clay is totally different from other products.
Example
Why removing power so strong?
The clay excels in all the conditions.
An application is quite simple; after washing a car, rub surfaces affected with paint mists and/or irons by Clean Clay while pouring water. It makes the surfaces silky smooth.
We used to prepare different types of clay depending upon car colors and conditions. However we have developed the new, Clean Clay, hence you can use the one kind for all colours and conditions.
IMPORTANT NOTE
Since CLEAN CLAY is clay, there is a risk of slight scratches. If you remove iron powder with clay, you will need to perform our SCRATCH CUT afterwards. For new cars and cars with good body condition, Iron Cut, which can melt the iron powder itself, can be applied repeatedly several times. If you cannot remove it with our IRON CUT, please use CLEAN CLAY.
1) Rinse dust, sand, mud and dirt with a strong stream of water.

2) Please use a car shampoo such as our body clean, and wash it well.

3) Moisten a clean cloth with plenty of water to make it look like the photo.

4) With this product covered with a wet cloth, rub the painted surface lightly.

5) After removing the deposits, wash it off with a car shampoo such as our body clean.

6) Wipe off the remaining water to complete.
We are loved by the world
In Asia, Europe, Middle East and Africa. Our quality proven in about 34 countries around the world and around 800 branches.
Asia, Europe, Middle East and Africa, about 34 countries around the world and 800 branches. It is your long-selling best quality products.
In Japan domestics car wash shops, petrol stations and various other automotive companies as a favorite brand.