TIRE CRYSTAL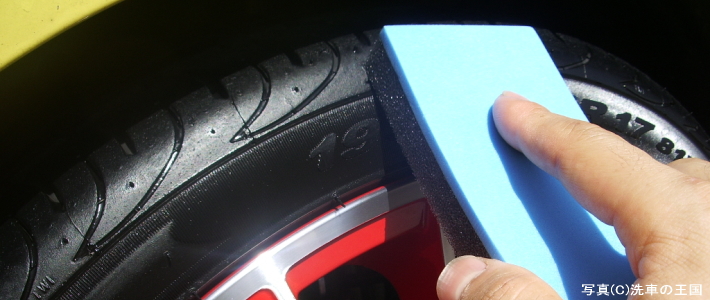 New development! Coating chemical made specifically for tires.
This coating product has been developed specifically for rubber and tires. There has been a little development in tire chemicals for decades although it makes a major difference in how cars look after washing.
Due to the development of tire itself, it has been likely occurred that excessive tire wax gets scattered around when driving and causes stains really hard to be removed.
We have reviewed ingredients of legacy tire wax to develop this new tire coating called Tire Crystal.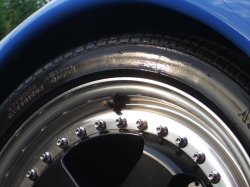 Main Features
Gloss: A special high density polymer resin creates gloss, looking new, and restores the black color.
Durability: By using normal car wash detergent, it will last for 60 to 90 days.
Safety: The chemical creates solid coating. It will not cause scattering when driving. In addition, it does not contain solvent detergent that can be damaging for tires.
The difference between Tire coating chemical and Tire wax
Special high density polymer blend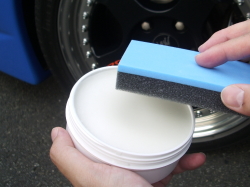 Tire Crystal does not contain a surfactant and solvent which cause damage to tires, unlike traditional tire wax.
The product creates a tough and flexible film (by special high density polymer resin) to endure harsh environments around tires. It also creates water-repellent and oil-repellent, antifouling performance and restores the luster like new tires.
It is very different from the legacy tire wax because this product creates solid coating. You do not need to worry about that it could scatter around and make stains.
IMPORTANT NOTE
Please do not use excessively, it might cause scattering around when driving.
We recommend 1g for one tire. For good completion, please spread it with small amount.
Tire wax causing splash or marks on car body surface
Tips on Tire
Many waxes sold in shops may contain a large amount of surfactants to enhance cleaning power.
If you use this kind of products, it may melt the antioxidants contained in the rubber and create different compound.
This compound has high penetration capability into tire material. When it is over used, the compound will be spread around on car body and make stains on the surface that could be really hard to be removed.
This kind of incident happens more often after the material of tire has been redeveloped. It likely happens more often while tires and car body are new. Car dealers and shops are experiencing the incidents and admitting the cases.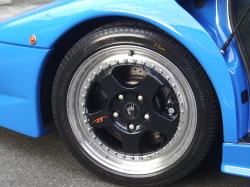 Legacy Wax manufactured by our company
The three types of tire waxes we offer are products that do not contain any surfactant or products that minimize the use of surfactants. Therefore, we are developing products that suppress the dissolution of antioxidants contained in tires as much as possible, so you can use it with confidence as long as there is no scattering due to overcoating.
1) Rinse off dirt or sand, mud and dirt and with a strong water flow.

2) Take an appropriate amount of this agent on our Tire Crystal sponge. 1g per bottle is a guide for usage.

3) Coat it uniformly on tire

4) Check that there is no overpainting, and the process is complete.
We are loved by the world
In Asia, Europe, Middle East and Africa. Our quality proven in about 34 countries around the world and around 800 branches.
\
Asia, Europe, Middle East and Africa, about 34 countries around the world and 800 branches. It is your long-selling best quality products.
In Japan domestics car wash shops, petrol stations and various other automotive companies as a favorite brand.