WHEEL&TIRE CLEAN (high concentrated) 4L
Product ID : 759-4
Alkaline Cleaner for wheel and tire
Contents
WHEEL&TIRE CLEAN (high concentrated) 4L (Use quantity : 16ml/car)
Added to Cart
* You can order either domestic or international products, but not both.
| | |
| --- | --- |
| Origin | Japan |
| List Price | 4,480 Yen |
| No of Use | 250 |
| Cost per car | 18 Yen |
WHEEL&TIRE CLEAN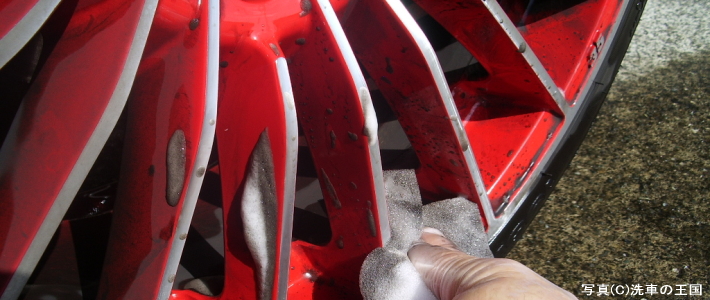 Completely remove dirt on wheels by simple work !
Ideal for daily cleaning of wheels! It is a wheel cleaner convenient and economical.
Anyone can use the wheel cleaner as we have specially formulated a product that was actually used in our detailing department.
Therefore, you can clean as much as possible without causing damage to the wheel surface.
Work is also easy to use. Apply this liquid to the wheel surface and clean with a sponge brush lightly you can easily drop the dirt of the wheels of daily life. Effort of rubbing by such as scrub is not required.
We would like to recommend the product to the user who was in trouble about cleaning of the wheel.We believe that the customers appreciate the feature and benefit of this product.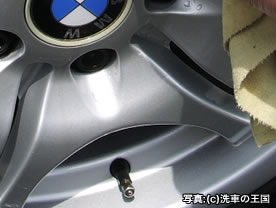 Why so easy to use? Why so clean it makes?
Strong force to remove the dirt by the penetration of alkaline components!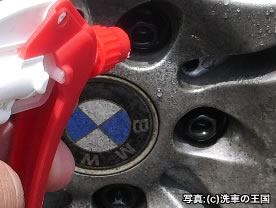 Dirt of the wheel, which is different from body dirt (such as the dirt on the painted surface ), very powerful. Therefore, car shampoo for body could not clean wheel dirt well.
You can remove the dirt by floating it with the strong penetration of alkaline in addition to the ingredients required for cleaning of wheels.
Please experience it once the cleaning power different from other wheel cleaners.
IMPORTANT NOTE
You may not remove brake dust stuck for a long period of time by Wheel & Tire Clean. We recommend our Brake Dust Cut for stuck brake dust. When you use it on plating wheel, it is possible that you might have stains and lack of gloss. It is recommended to check whether there has occurred, such as stains in the part that does not stand out in advance.
1) - Rinse dust, sand, mud and dirt with a strong stream of water.

2) - Spray this solution directly without wiping off the water, and wash with our Utility Sponge Half.

3) - When the dirt is removed, rinse it with plenty of water before it dries.

4) - Wipe off the remaining water to complete.
We are loved by the world
In Asia, Europe, Middle East and Africa. Our quality proven in about 35 countries around the world and around 800 branches.
Asia, Europe, Middle East and Africa, about 35 countries around the world and 800 branches. It is your long-selling best quality products.
In Japan domestics car wash shops, petrol stations and various other automotive companies as a favorite brand.