RUBBING STRIPS CLEAN 18L
Product ID : 619-18
Unpainted plastic parts high concentrated cleaner for bumper & trim
Contents
RUBBING STRIPS CLEAN 18L (Use quantity : 5ml/car)
Added to Cart
* You can order either domestic or international products, but not both.
| | |
| --- | --- |
| Origin | Japan |
| List Price | 17,811 Yen |
| No of Use | 3,600 |
| Cost per car | 5 Yen |
RUBBING STRIPS CLEAN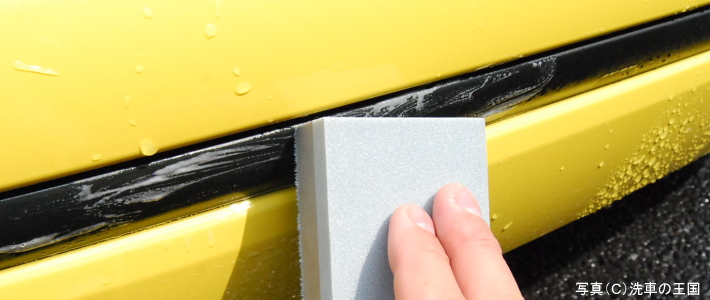 Removing wax and clean the dirt stuck on the bumper and door strips.
This product has been recently developed only for unpainted plastic materials. Wax and dirt stuck on unpainted plastic parts is difficult to be removed by normal shampoo wash. Even when they are hard to be removed, you cannot use strong solvents such as paint thinner. It will damage the materials. Please try our Rubbing Strips Clean. This product has been developed for unpainted plastic parts. It will remove the dirt stuck on bumpers and strips. It's easy to use, just take this solution with our special sponge Clean Brush and brush it lightly. We have included instructions with photos. You do not need to worry when you are using for the first time. It will be very easy to use. One bottle will be enough to clean all door strips for 8 cars. If you have used other products and not satisfied, you should find this product very different.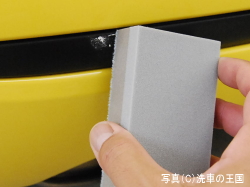 Wax is stuck on the surface.

After application. Wax has been removed.
Excellent cleaner! Why is it able to make clean so easily!
Friendly to the mold! Newly developed neutral detergent special sponge type brush works!
Rubbing Strips Clean is a bumper / molding cleaning system developed without relying on the cleaning power of detergents. With the effect of the special neutral detergent Rubbing Strips Clean and the special sponge type brush Clean Brush, there is no doubt that the car wash will be fun with the continuous call of "Removed ! Removed!". Moreover, this product is a product specially developed and realized based on the know-how of the industry's largest professional construction shop. We are proud that it is clearly different from the ones on the market. "Ultra-fine fibers" and "raised" scrape out dirt and remove it!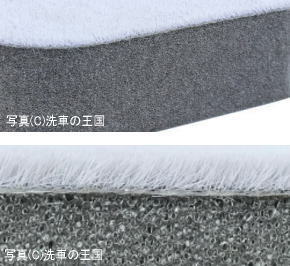 Ultrafine fiber will remove the dirt completely!
IMPORTANT NOTE
This product is only for unpainted materials such as strips and bumpers with harsh serface. It should not be used for door visor and headlight (clear materials). We recommend our Plastic Polish for door visor and head light.
1) Dust, sand, mud and dirt, rinse with a strong water stream.

2) While the construction surface is still wet, take this solution with our clean brush and rub the dirty part.

3) After the stain is removed, rinse with plenty of water before it dries.

4) Wipe off the remaining water to complete.
We are loved by the world
In Asia, Europe, Middle East and Africa. Our quality proven in about 34 countries around the world and around 800 branches.
Asia, Europe, Middle East and Africa, about 34 countries around the world and 800 branches. It is your long-selling best quality products.
In Japan domestics car wash shops, petrol stations and various other automotive companies as a favorite brand.