FABRIC CRYSTAL
I WANT IT CLEAN FOREVER
I want to keep my car seat clean forever.
But before I knew it,
CAUSED BY??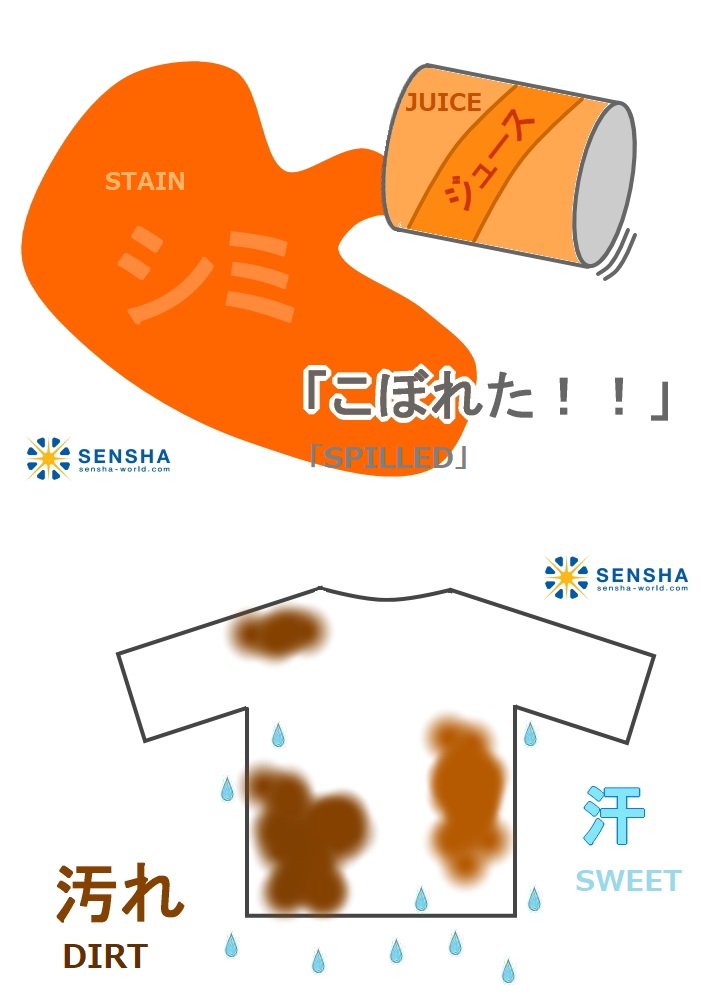 That means
Isn't it okay if the dirt doesn't penetrate?
From that idea ...
It was completed!
Water repellent finish like a specialty store can be done by yourself!
Fabric water repellent coating agent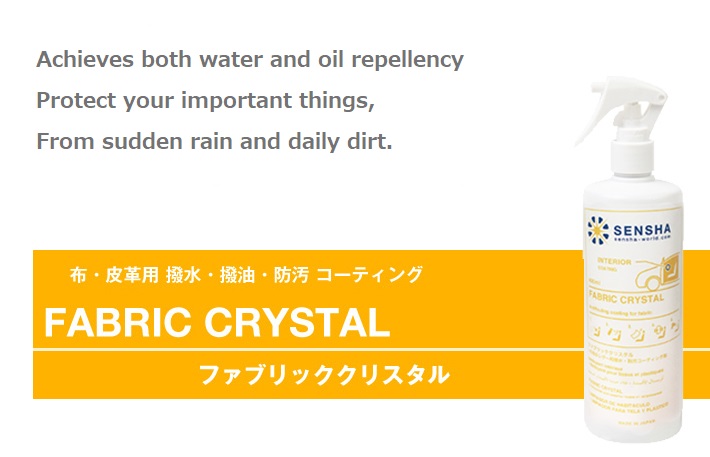 Its not only for your favorite Car
Is it raining today too? My jacket and bag get wet and my shoes get dirty.
Even in that morning, you can have water repellent finish before going out!
Repels dirt and keeps it clean
I want to prevent rain soaking, I want to prevent dirt
Coating such items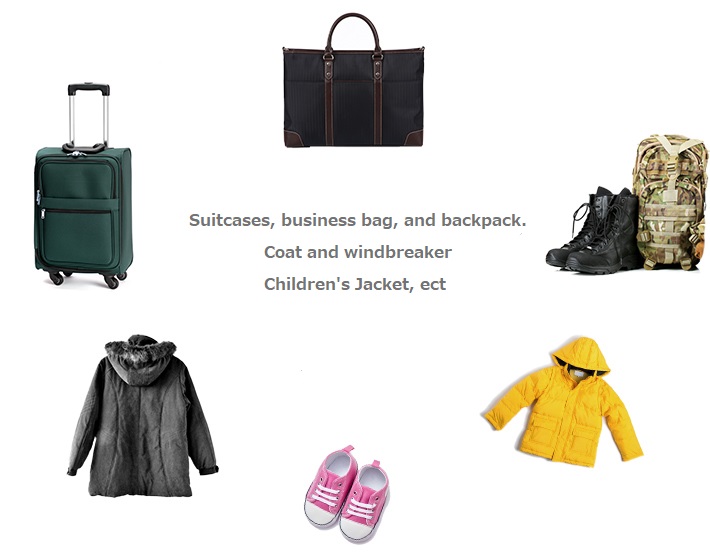 Fiber coating without compromising the breath-ability of the fabric
Not only rain and mud dirt
It also protects against oil stains in lunch boxes and dishes!
Sofa, cushion, carpet
Tablecloth and kotatsu futon
For golf, sports and outdoor equipment
It is also possible to revive the water repellency of materials whose water repellency has weakened!
Mountain parka, down jacket, umbrella,
Mouton boots, snow boots, waterproof and breathable materials are also revived and strengthened!
TASK
Most of the stains on the sheets are traces of dripping liquids such as juice and coffee.
In general, a sheet of cloth material is often becomes like this picture.
DEVELOPMENT
No matter how careful you are, you may spilled a juice or coffee.
Up until now, because the spilled has been to long, it costs a lot to clean it.
Even if you've spilled a juice or coffee, if you can wipe it off quickly, you should be able to reduce the sticking of dirt.
Fabric crystal is a product born from such an idea.
Its outstanding water repellency prevents dirt from getting in.
APPLICATION
Application is so easy! 3 Steps
1) Spray the liquid and let it soak for 10 minutes. Spray it properly.

2) Wipe lightly. Do not wipe off to much.

3) Dry with a hair dryer. Please be careful not to burn yourself.
■ Important points of coating processing
・ Spray evenly so that Fabric Crystal penetrates into the fiber. Please moisten as much as you like.
・ If this solution does not soak enough, apply it to the material by stroking the coated surface.
・ Be sure to dry completely with warm air from the dryer. Natural drying does not form a water repellent film, so it does not repel water at all.
・ if you think repellent power is not enough? Spray again. Dry it completely
Exports to countries around the world have also started.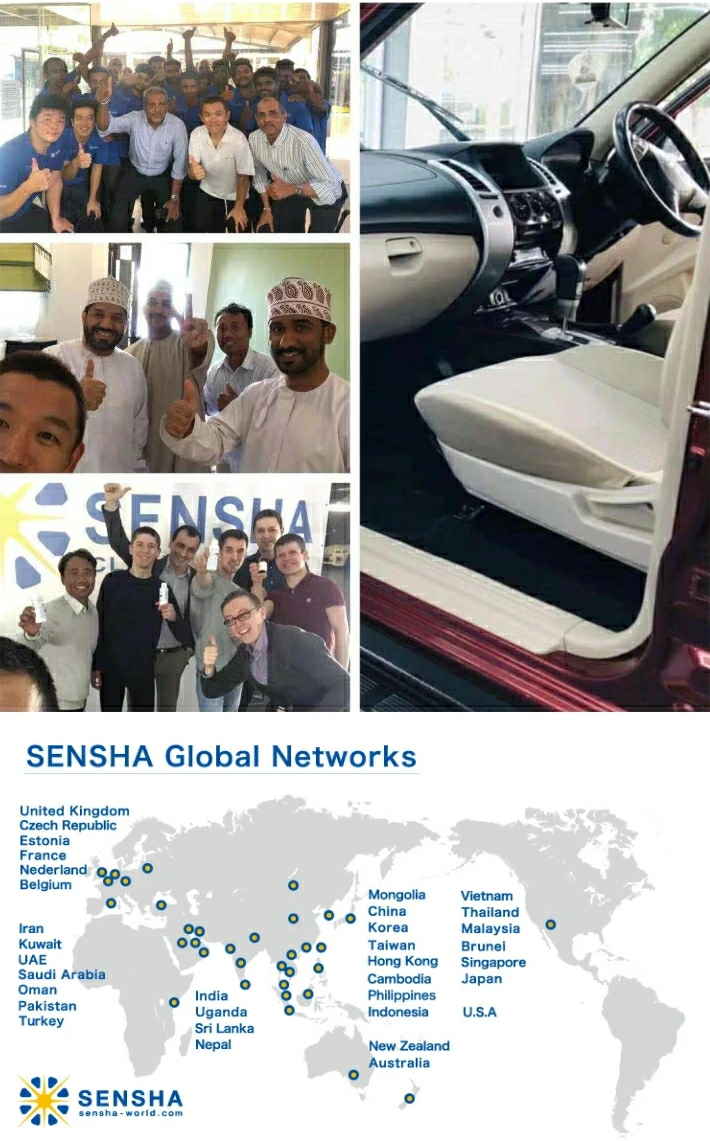 Spray and dry with a dryer! Easy to use professional water-repellent coating before going out!
After spraying, be sure to dry using heat from a dryer or iron, not naturally dry.
Fabric crystal soaked the material will be firmly fixed.
A powerful effect similar to the water repellent finish by a specialty store.
A lot of the benefits of liquid type "fluorine-based water repellent
The fabric crystal is a "fluorinated water repellent". Furthermore, because it is a liquid type, there are many advantages.
・ Fluorine-based effect lasts long.
・ Because it is a liquid type, it penetrates deep into the fiber and firmly settles.
・ Fabric crystal is a fluorine-based water repellent compared to silicon that only used water.
As well as water repellent effect, it also has excellent oil repellent effect that repels oil and protects against various oil stains.
Plenty of capacity! 400ml that can be reconstructed repeatedly.
It is safe because it is not a gas (aerosol) type.
Furthermore, the remaining amount is easy to understand because it is a spray type.
・1 bottle 400 ml = Car → About 1 to 1.5 cars
・1 bottle 400 ml = Jumper→About 4 pieces
・1 bottle 400 ml = Shoes→ About 60 Shoes
PFOA considering the global environment
About PFOA
It is an abbreviation for perfluorooctanoic acid and remains in the natural environment without being decomposed, and environmental pollution is a concern as a hazardous substance.
Fabric Crystal does not use ingredients contained in the PFO Voluntary Reduction Program announced by the US Environmental Protection Agency.
■ Easy to get effect. Difficult to obtain
Effect : ◎
For example, fine-grained fabrics such as jumpers and shirts are easy to obtain a water-repellent effect.
Effect : ○
For example, rough fabrics such as towels and carpets may not have a water repellent effect.
If the effect cannot be obtained once, we recommend re-installation (spray application → dryer drying → spray application → dryer drying).
Effect : △
Applying on fur fabrics such as moutons is one of the materials that are unlikely to have a water repellent effect.
It is possible to obtain a water-repellent effect by re-construction, but there is a possibility that the texture of the material will feel hard.
■ NOTE
・ The water repellent effect does not last forever. The water repellent effect is weakened by rubbing many times or washing anything.
・ Please note that water cannot be absorbed if applied to a towel or mat intended to absorb sweat or moisture.