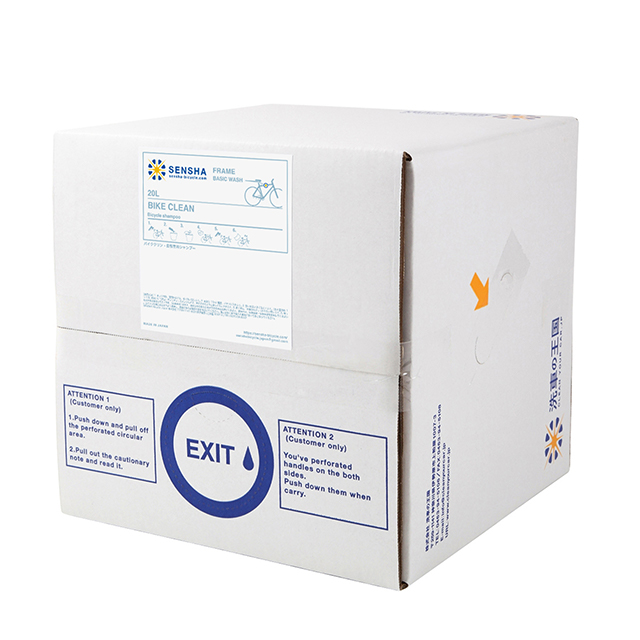 BIKE CLEAN 20L
Product ID : 338-20
Bicycle shampoo
Contents
BIKE CLEAN 20L (Use quantity : 1.5ml/bike)
Added to Cart
* You can order either domestic or international products, but not both.
| | |
| --- | --- |
| Origin | Japan |
| List Price | 13,259 Yen |
| No of Use | 13,334 |
| Cost per car | 1 Yen |
BIKE CLEAN
This product Bike Clean, is a cleaning shampoo for bicycles developed exclusively for bicycles. It is a highly reliable cleaning agent that is also used in each SENSHA Bicycle store.
Did you wipe it by rubbing it?
Are you rubbing or wiping the dirt with mud, dust, and various dirt on it?
If you wipe it while it is dirty, fine scratches will occur on the painted surface, and the brilliance of the new bike will gradually be lost.
Safe for delicate bicycle frames
This product Bike Clean, can gently wash your bicycle with very fine foam. It is possible to reduce small scratches that occur during cleaning.
Furthermore, since it is neutral, it is less likely to cause stains, making it a product that anyone can be used safely.
Also used in all SENSHA Bicycle shops the bicycle washing specialist.
At each SENSHA Bicycle store, which specializes in bicycle washing and coatings nationwide, we have received the support of many customers and have constructed many bicycles. We hope you will give it a try.
1) Rinse off dust, sand, mud and dirt with water.

2) Put about 10 ml of this solution in a bucket.

3) Whisk well with a strong stream of water. (The amount of water is about 1 to 1.5L)

4) Gently wash with our Utility Sponge to spread the foam.

5) Rinse thoroughly with plenty of water before it dries.

6) Wipe off the remaining water and you're done.