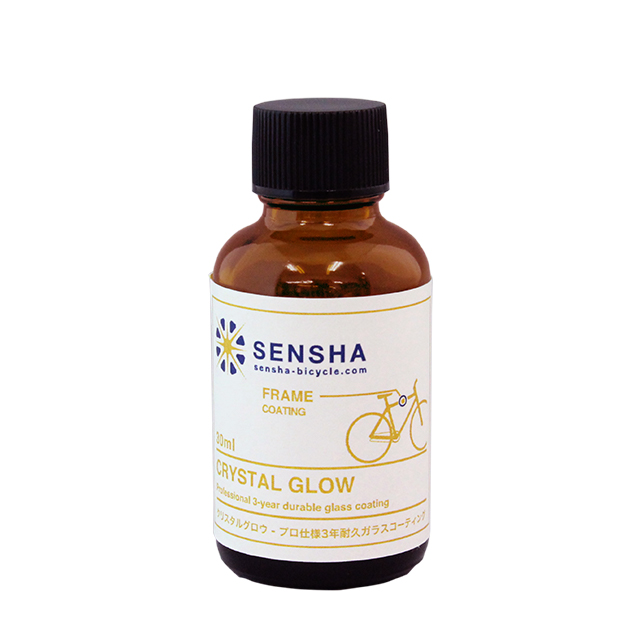 CRYSTAL GLOW for Bicycle 30ml
Product ID : 335-003
Professional 3-year durable glass coating
Contents
CRYSTAL GLOW for Bicycle 30ml (Use quantity : 5ml/bike)
Added to Cart
* You can order either domestic or international products, but not both.
| | |
| --- | --- |
| Origin | Japan |
| List Price | 3,448 Yen |
| No of Use | 6 |
| Cost per car | 575 Yen |
CRYSTAL GLOW for Bicycle
Durable glass coating agent for bicycles
This product CRYSTAL GLOW for Bicycle is a bicycle glass coating agent that has been redeveloped exclusively for bicycles based on the professional glass coating agent that is actually used in about 800 automobile coating shops in 34 countries around the world. It is a highly reliable coating agent that is also used in each SENSHA Bicycle store.
The biggest feature is that the effect lasts for a long time with one application. It exhibits high water repellency as well as antifouling effect and gloss.
All you have to do is apply this solution and wipe it off with a cloth.
It's a very simple task, so even those who are a beginner can apply it with confidence. It is the best product for those who want to coat their bicycles!
Also used in all SENSHA Bicycle shops, the bicycle washing specialist.
At each SENSHA Bicycle store, which specializes in bicycle washing and coating, we carry out coating work every day. The coating agent used there is this product CRYSTAL GLOW for Bicycle.
With the support of many customers, we have constructed many bicycles. please give it a try!
1) Whisk the BIKE CLEAN well to clean the frame.

2) After washing, rinse well with water and leave no remaining foam or dirt leftover.

3) Wipe off the water well.

4) Remove oily spots with WAX OFF.

5) Drips the CRYSTAL GLOW onto Coating Cloth.

6) Apply evenly with a cloth that has been soaked with the solution.

7) Wipe off immediately after applying the entire frame. Wipe it off before it dries. (When it dries, it becomes difficult to wipe it off.)

8) Observe the whole surface, confirm there is no miss spot to wipe thoroughly.